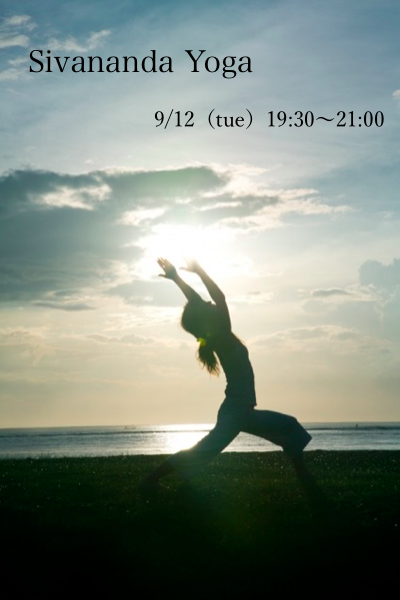 Swami Sivananda was a doctor, but after he executed many years later,
he realized medical cant heal people from the root,
so he decided to devote himself to disseminate the yoga he created,
that is Sivananda Yoga.
The spirit of Sivananda Yoga is "serve, love, purify, meditate and realize."
The whole sequence of Sivananda Yoga includes two pranayama practices,
traditional Sun salutation from Yoga Sutraand fixed 12 asanas. 
date : 2017 9/12(tue) 19:30〜21:00
fee : 2700yen (monthly member 2160yen)
instructor : Sophia
location : YOGA WING OKINAWA
application : info@yoga-wing.net
This class is in English.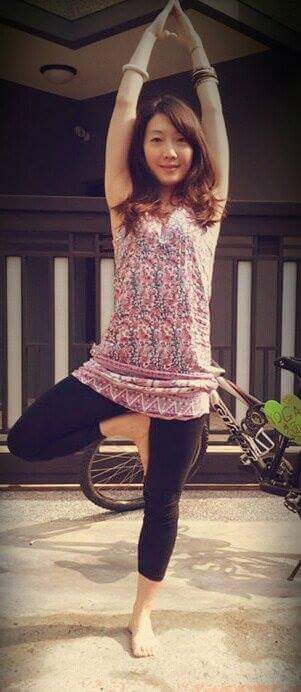 Sophia

 

 

I am a Taiwanese, named Sophia Ko.
Last year, I taught yoga in Kagoshima. 

I have practiced yoga for 10 years, and been teaching yoga for 4 years. In Taiwan, I own a yoga studio in my hometown, Hsinchu city.

Before I became a yoga teacher, I did marketing in a biggest IT company in Taiwan. Besides, I also worked in U.S. and Thailand. Afterwards, I felt I wanted to leave office job, so I quit and went to yoga teacher training course in North Thailand, at that time, I just thought I wanted to experienced the course, never thought I will be a yoga teacher, but after two months training in Thailand, I just came back to Taiwan and opened my yoga studio without considering, so the happening was like God's intention.

I like teaching yoga, and also like to enjoy a free & slow life. Long stay in a new country or a new city, totally live a local life which what I pursuit now. When I stay in a new place, that can refresh my mind and body, and this kind of slow life can help me find myself.

I list my yoga certifications and teaching experiences as below.

Educational Background:
- Master in Bradford University, U.K.
- Graduate school in Purdue University, major in Communication. 

Yoga Certifications:
- Sivananda Yoga TTC 200hrs  
- Yoga Alliance RYT 200hrs 
- Mindfulness Yin Yoga TTC 80hrs certified by Space Yoga, Taiwan  
- Lady Niguma Yoga qualified teacher
- Prenatal yoga TTC qualified 
- Kids yoga TTC certified by The children of the republic of China yoga association
- Iyengar Female yoga teacher training 
- Level 1 sound healer certified by International Academy of Sound Healing (IASH)

Yoga Teaching Experiences:
- Owner and main teaching of Puri
Yoga, Taiwan
Facebook page: 
https://www.facebook.com/rosyyoga1110/
- Shanti-Peace Yoga Studio, Kagoshima 2016
- Studied and experienced yoga therapy & Panchakarma in Kaivalyadhama Yoga Institute
- Teaching prenatal yoga at Meadjohnson Mothers' classes
- Teaching at government departments/ companies/ other yoga centers

I can teach:
* Sivananda Yoga
* Yin Yoga
* Lady Niguma Yoga
* Chakra Yoga
* Traditional India Yoga Therapy
* Traditional Chinese Medical Yoga
* Aroma Relaxing Yoga
* Chandra Namaskar(Moon Salutation)
* Prenatal Yoga
* Kids Yoga

 

 

[contact-form-7 404 "Not Found"]